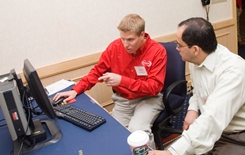 Companies that partner with InfinityQS secure the support of a world class team of quality professionals. The list includes Industrial Statisticians, Certified Quality Engineers (CQEs) and Six Sigma Black Belts. Not only do customers get the world's #1 Real Time SPC software, but they also benefit from our depth of knowledge in the quality improvement profession.
Our industrial statisticians wrote the book on quality, and are published regularly in industry publications. Prior to joining InfinityQS, the majority of our staff worked in manufacturing facilities and were responsible for monitoring and controlling quality. With over a century of combined on-site implementation experience, our application engineers have seen it all. From single-site installations to full-blown, world-wide deployments spanning several continents, they have managed a full spectrum of implementations.
Not only do our quality experts assist in implementation and ongoing consultation on InfinityQS software, but we leverage the expertise of our staff in the development of new software tools and analysis techniques. No other SPC software provider can boast of such a high level of thought leadership, statistical knowledge and quality systems expertise.