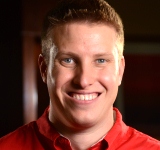 Eric Weisbrod
Senior Application Engineer
Eric joined the InfinityQS International team as an Application Engineer in November of 2006 and is based out of Gilbert, Arizona. He currently works with customers to provide on-site consultations, assist with the implementation of InfinityQS software and improve customers' current implementations. In addition, Eric hosts online demonstrations of current and upcoming software elements and leads on-site classes of the Fundamentals Training course.
As a former customer of InfinityQS at Motorola/Freescale Semiconductor, Eric performed materials research and development where he used InfinityQS software to improve the capabilities and reliability of the data collection and process analysis. Now Eric shares his experience with customers to ensure they receive a complete understanding of the InfinityQS products and helping them look toward their future needs to benefit the overall project.
Eric earned a Bachelor of Science and Master of Science in Mechanical Engineering from the University of Wisconsin-Madison where his graduate school work focused on finite element analysis for the semiconductor industry.