The ability to gather and compare quality-related data from multiple sources is vital to making real-time decisions in manufacturing environments.
InfinityQS makes it easy to capture data into ProFicient with our data management modules. Our system allows measurement values to be read from Coordinate Measuring Machines (CMMs), checkweighers, databases, Ethernet and Serial Devices, OPC servers, text files and other data sources directly into ProFicient's database. Captured data can be instantly accessed and analyzed using the entire range of powerful ProFicient functionality.
Data Management System (DMS)
The Data Management System (DMS) is InfinityQS' organizational tool for data collection, allowing data to be gathered from a wide variety of sources.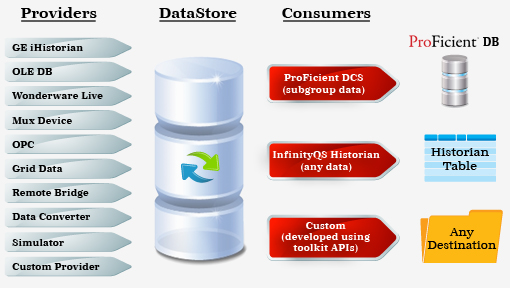 DMS extends the reach of ProFicient's powerful analytical capabilities across the enterprise by standardizing data from multiple sources and then writing that data into a centralized database.
Using DMS, you can pair process parameter readings with tag fields such as part numbers and other characteristics, providing users a true, correlation-based, understanding of how key process parameters affect the quality of manufactured products.
DMS streamlines automated data-entry and data collection from multiple data sources. Analyzing data from these various data sources is now possible because DMS combines the data into rational subgroups. The connecting data sources include OPC, Wonderware Live Data Tables, 3rd party OLE databases, GE iHistorian, grid providers that parse data from RS232, Ethernet and ASCII data files.
With DMS, you gain a true understanding of how key process parameters affect the quality of manufactured products.
Data Collection Service (DCS)
You can fully automate your data collection so that it runs automatically, without any operator input. ProFicient doesn't even need to be running for the Data Collection Service (DCS) to collect data. This module is very useful in "lights out" manufacturing facilities where operations are automated to an extent that little or no human interaction is required.
DCS can acquire test data from enterprise and plant applications and from virtually any electronic test equipment. This data can then be easily compiled into meaningful and actionable information about manufacturing processes.